| | |
| --- | --- |
| Posted by Kim on October 14, 2010 at 1:30 AM | |
On Thursday, October 14, 2010 Appassionato Music Group had a bake sale at San Domenico High School. Our goal was to promote the United Nation Convention on the Rights of the Child. The money we raised was to be donated to Sun Village Beijing.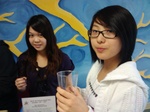 During this bake sale, we sold Chinese paper-cut bookmarks that were made by the Sun Village children. On each bookmark, there was one UN Convention article. We also sold some udon, hello pandas, Yan-yan, apple cider, popcorn, halloween cookies, and jelly. Our most popular items were udon and popcorn. In the end of the day, we raised a total of $159.00. We are planning to have a popcorn sale soon.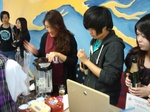 Related photos: http://www.childreninneedclub.com/apps/photos/album?albumid=10171060.