| | |
| --- | --- |
| Posted by Caitlin on October 4, 2010 at 12:40 AM | |
On October 3, 2010, members of the Appassionato Music Group, including Peggy Cui, Kimberly Lin, Angela Lo, Joanna Lu, Allie Simpson, Hanna Kim, and myself, Caitlin Gowdy, went to the Mission San Rafael Arcangel in San Rafael to promote United Nations' Convention on the Rights of the Child. At the event, we sold bookmarks made by the children at Sun Village Beijing. Each bookmark portrays an article of the Convention with Chinese paper cut picture. We also had a small chamber music performance.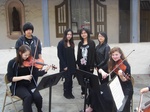 We spent two and a half hours at the Mission, playing music and selling bookmarks between masses. The music and bookmarks were well received. People enjoyed the music with lots of clapping and showed their support to the noble cause by purchasing the bookmarks. This was a successful fundraising event. Thanks to everyone for helping us to make this event a success!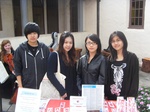 Related photos: http://www.childreninneedclub.com/apps/photos/album?albumid=10090248.
Categories: Sales, Benefit Concerts, Charities