November 14, 2013
Children in Need Club
P. O. Box 5192,
Novato, CA 94948
Dear Idrissa: 
How are you? I am the current president of Children in Need Club, which started sponsoring you three years ago, when you were 4 years old. From your recent progress report, we know that you are in school now. We are happy for you, and hope that you enjoy your classes and do well in school. 
We are a student club comprised of 70 musicians and volunteers. We often raise money through concerts and bake sales. Recently, we held a bake sale at a high school near San Francisco, and raised money for your next 6-month sponsorship. Attached you will find the flyer with photos from bake sale in addition to notes from your sponsors. 
We are your big "sisters" and "brothers" in the United States. We will keep on sponsoring you when we can. Please write us and send us photos whenever you can because we enjoy reading your story of growing up.
Best wishes
Cherry Yuan
Club President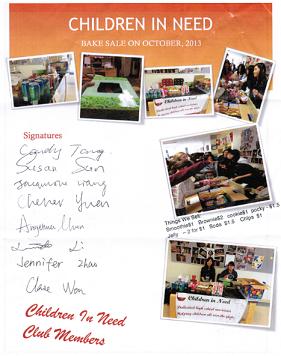 Categories: News