On May 5, 2012, Children in Need performed at the Bocce Tournament at the Saint Vincent De Paul Conference in San Rafael to raise money for the needy families in Marin County. The performers; Caitlin Gowdy, Niki Fukada, Jacqueline Reese-Mikula, and Joyce Kwon  from San Domenico performed as a quartet under the bright sun of the afternoon. They were greeted by the smoldering smell of the freshly barbecued chicken, the lively crowd playing Bocce Ball, and friendly faces of the hard working fundraisers. At first, everything went well until the quartet had realized that there were no stands to place their music! With a hectic struggle, the quartet scrambled to do their best to assemble the stands and music needed to make the event happen. Finally after numerous phone calls, and back and forth texting everything came together and they were able to begin their performance.
   The performance kicked off with the quartet playing the arranged version of Por Una Cabeza (Tango) by Carlos Gardel in which they filled the event with an upbeat energetic spin. Next they assembled to play the Smetena String Quartet No. 1 in E minor however with the strong wind they were immediately faced with music flying everywhere. So with no other option, one of the girls opted a way of securing their flying music by breaking the ends of plastic forks and weaving it through their music to their folders. Next, the girls played the Prelude by Maurice Moszkowski and then moved on to playing the Carmen Fantasy by Pablo de Sarasate with Caitlin Gowdy playing the solo. Their performance ended with a replay of their tango and with the crowd roaring into applause of immense appreciation. The performers were able to experience a tight knit environment that came together to help those in need and the event emphasized the importance of helping out the people in the community and the importance of giving back.

Related photos: http://www.childreninneedclub.com/apps/photos/album?albumid=13416745.
On December 16, 2011, Children In Need was invited to the beautiful home of Mr. and Mrs. Kurt Leswing to perform for the Saint Mark's Board of Trustees and the newly appointed headmaster of Saint Mark's School, Mr. Joe Harvey. Four Saint Mark's graduates namely, Toki Migimatsu, Matthew Spiegel, Tyler Leswing and Gaby Berbey joined by their special guest, RJ Pearce, represented the club for the evening. Gaby acknowledged the presence of another Saint Mark's graduate and the founder of Children In Need, Caitlin Gowdy. The private concert began with Tyler Leswing playing the piano. Following Tyler was Matthew, who, despite the fact he hadn't touched his saxophone for four months, played with immense musicality and poise. The sound of his saxophone filled every room in the house with its rich and grand sound. RJ Pearce then performed Chopin Nocturne in C Minor Op 48 No. 1 with such grace and smooth texture. The people in the audience couldn't help smiling at his outstanding musicality throughout the piece. RJ and Gaby Berbey then performed the Brahms' Sonatensatz. Its fast-paced, yet rich tone had the audience totally captivated. To further reach out to the audience, Toki Migimatsu performed Transcendental Etude No 10 in F Minor by Franz Liszt. His perfect balance of technicality and musicality left the audience stunned, and made him the star performer of the night. The concert was then concluded by Tyler Leswing playing one of his own compositions entitled Australia. Its sweet and relaxing theme was a perfect way to end the concert.
During the night, Gaby Berbey, raised awareness of the need to help the destitute Bay Area families and children by encouraging the guests to donate to Chronicle Season of Sharing. The group was able to raise $331 for this worthwhile cause.
This performance was a unique experience for all the performers, as it emphasized the importance of giving back to the immediate community. Performing for the Saint Mark's board and the new headmaster, Joe Harvey, reminded the members not to forget about the school that helped them grow and flourish for nine years. The performance also helped the immediate community by funding bay area food banks and needy families, a different approach to the usual overseas donations. 
Related photos: http://www.childreninneedclub.com/apps/photos/album?albumid=12797043.
On December 2, 2011, Children in Need held a concert at Villa Capri in Santa Rosa. The event was sponsored by Cioppino's restaurant in San Francisco which donated $3,000 to Chronicle Season of Sharing in honor of the club. The extensive program included six pieces and had a diverse range of music and instruments. The program started with Matthew Lee performing a wonderful Toccato from Partita No.6 in E Minor by J.S. Bach. Gaby Berbey followed with the upbeat and playful Violin Concerto in E Minor, by Felix Mendelssohn. To direct the tone of the concert to a more serious one was Kuni Migimatsu, playing Sonata N.2, Op. 14 by Sergei Prokofiev. Following Kuni's performance was Lianne Pearce, who did a beautiful rendition of the Concerto in E Minor, Allegro Moderato by Pietro Nardini. RJ Pearce then performed his amazing solo, Nocturne in C Minor, Op. 48, No.1 by Frederic Chopin. To conclude the classical portion of the evening were Gaby and RJ performing Sonatensatz byJohannes Brahms. The mood of the concert then shifted to a more relaxed pace with Cory performing Have Yourself a Merry Little Christmas, by Ralph Bland, putting all of the residents in a cheerful holiday mood. Ending the benefit concert was talented Tyler Leswing playing one of his own compositions, entitled Australia.
The club members left the venue with a light and festive feeling of being able to spread holiday cheers to the residents of Villa Capri.
This was the third time Children in Need performed at Villa Capri, and it truly touched the hearts of everyone in the club to see all the residents still so enthusiastic about the club. The members greatly enjoyed performing at Villa Capri, as they always feel welcome and the audience always makes performing a memorable experience due to their appreciating for the music itself.
Related photos: http://www.childreninneedclub.com/apps/photos/album?albumid=12792658.
On December 21, 2011, Gabrielle "Gaby" Berbey represented Children in Need where she performed at ABS-CBN Foundation's 3rd Sagip Kapamilya Sa America Graduation Ceremony. ABS-CBN Foundation is the philanthropic arm of ABS CBN International, the largest media company in the Philippines. Gaby was invited to perform at the graduation ceremony of the Filipino nurse scholars who went to the American College of Nursing sponsored by the foundation. During the ceremony, a minute of silence was observed to remember the hundreds of lives lost in the Typhoon Sendong tragedy. Gaby dedicated her performance to the Filipinos who are affected by this calamity. She played Jules Massenet's Meditation from Thais and John William's Schindler's List. Following her performance, she was interviewed by an ABS-CBN reporter where she spoke about her role in the club, as well as its purpose. She also mentioned the importance of keeping her ties with the Filipinos here and in the Philippines.
Before her performance, Gaby wrote to some prospective donors and asked for donations for the Sendong victims. She was able to raise more than $2,000 for this cause. The donations will go a long way in helping those who desperately need assistance in the affected areas in the Philippines.
This performance was a very personal experience for Gaby, as it brought her closer to her Filipino roots, and meant a lot for her to donate to the Filipino victims. She cares deeply about the country, as well as its people, making the performance much more meaningful than standard recitals. In 2009, Gaby visited the Philippines, immediately falling in love with the country, and she viewed this performance as a way to give back to the people that brought her so much joy during her visit.
Related photos: http://www.childreninneedclub.com/apps/photos/album?albumid=12797034.
On the evening of December 17, 2011, two representatives from Children in Need, RJ Pearce and Gaby Berbey performed at a private holiday party hosted Mr. and Mrs. David Butze. The performance started with Gaby performing Jules Massenet's Meditation from Thais, accompanied by RJ. The calm, yet heart-warming piece was a perfect way to start the program. She was followed by RJ playing the Nocturne in C Minor, Op. 48, No.1 by Frederic Chopin. The technicality and musicality required to play the piece completely captivated the audience. To end the performance, Gaby and RJ played the Sonatensatz by Brahms. This lively and fast-paced piece, along with the balance between the violin and piano left the audience greatly satisfied with the performance.
In lieu of getting paid, RJ and Gaby, asked the hosts to donate to Chronicle Season of Sharing during the holiday season.
This performance brought RJ and Gaby much closer to the Branson community. Their goals going into the performance were to raise awareness about Children in Need, receive donations for Chronicle Season of Sharing, and provide quality music for the audience. By the end of the night, all of their goals were successfully accomplished. Not only did they receive several generous donations, and also spark the interest of many Branson families towards Children in Need, but also left the audience genuinely impressed with all the performances.
Our sponsored child, Idrissa Abdah, just sent us a recent photo of himself and an annual progress report. According to his progress report, he is in good health. Because of his young age, he has not yet gone to school, but he is planning to start next year. Through this report, we found out that his favorite animal is the sheep, his favorite bird is the pigeon, and he enjoys playing football.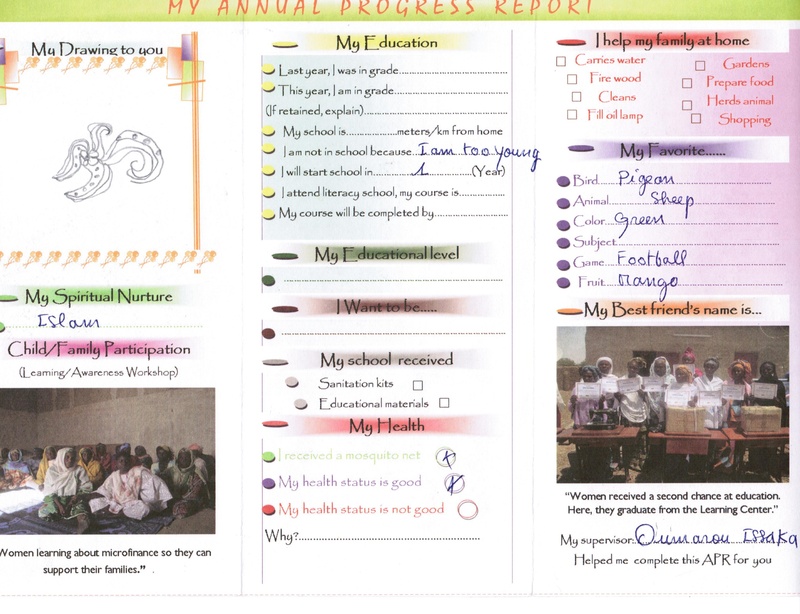 According to the Development Program of World Vision, the Gamou community in Niger, where Idrissa lives, has been affected badly by the food crisis, floods and malaria. Our support has helped them to implement:
• medical treatment of 1,322 children from malaria
• the strengthening of cereal banks stock with 48 tons
• the training of 358 women in micro finance activities
We are happy to see our contribution has helped Idrissa lead a healthy and happy life. This is the purpose of our club and we will continue to do so to help other needy children.
On September 4, 2011, our club was honored to host the "Concert of Life" with SEAPC Touching Hearts at the Mt. Tamalpais United Methodist Church in Mill Valley. This concert was dedicated to the Tibetan children who need heart surgeries.
Our crew members from San Domenico School, Peggy Cui, Kimberly Lin, Angela Lo, Rita Chen, Joanna Lu, Rita Hu and Nichole Chen, arrived at the church at 5:00 pm. They set up the reception, performance platform, and a mini snack bar. Then, Matt Geppert from SEAPC arrived with information about the children SEAPC Touching Hearts has treated in Tibet. The concert started at 7:00 pm with Matt's introduction about how their operation started in Tibet. After Matt's speech, Peggy took over the stage and announced the concert to the audience.
We had Matthew Lee start the concert by playing 2 piano pieces one by Bach and the other by Alberto Ginastera. Following him, Gaby Berbey performed Violin Concerto in E minor, 3rd Movement by Felix Mendelssohn. Then one of our guest performers, Alice Zhu, from Cupertino, performed Sonata Op.2 No.2 in A Major, 1st mvt by Beethoven. Following Alice, Kenji Bellavigna performed a clarinet piece by Mozart in great style. Then our second guest performer, Kevin Zhu, at age 11, gave a 20-minute performance with accompaniment of his sister, Alice. His first piece was the Sonata for Violin and Piano No. 3 in G minor, D 408, 2nd and 4th Movement by Schubert. His second piece was Carmen Fantasy by Pablo de Sarasate. His flawless playing of complicated violin techniques won the audience's hearts and respect. During the intermission, people were taking photos with him and asking for his autographs.
After the intermission, R. J. Pearce performed 2 piano pieces by Chopin: Mazurka Op. 6, No. 3 in E Major and Nocturne Op.9, No. 1 in B flat minor. Then I concluded the classical performance section of our program with Kreisler's Tambourin Chinois, accompanied by R. J. Pearce. Peggy took over the stage again and introduced Rita Hu, who played a traditional Chinese instrument, calabash flute also called Hulusi. After Rita's performance, our club's two talented members, Tyler Leswing and Stephen Spies presented their self-composed pieces. Tyler's piece was on the piano and he dedicated his song, Tibetan Heart, to the Tibetan children. He also jazzed up Heart and Soul with his sister, Sophia Leswing. Then a quartet piece by Stephen was performed by me, Mae Frank, Stephen Spies, and Joyce Kwon. The program ended with a touching prayer from Matt.
We hope this concert brought music, talents, and culture to our community. Through our club members' efforts, we hope to bring people's awareness about the children in remote Tibet who desperately need heart surgeries in order to survive and live when they become teen agers.
Program:
Prelude and Fugue in F# minor from Well-Tempered Clavier, Book 1 by J. S. Bach
Danzas Argentinas, Op.2, no.1 & no.2 by Alberto Ginastera
Matthew Lee, piano, Miller Creek Middle School
Violin Concerto in E minor, 3rd Movement by Felix Mendellsohn
Gabrielle Berbey, violin, The Branson School; Joe Bloom, piano
Sonata Op.2 No.2 in A Major, 1st mvt. by Ludwig van Beethoven
Alice Zhu, piano, Lynbrook High School
Clarinet Concerto, 1st Movement by Wolfgang Amadeus Mozart
Kenji Bellavigna, clarinet, Redwood High School; Joe Bloom, piano
Sonata for Violin and Piano No. 3 in G minor, D 408, 2nd and 4th Movement by Franz Schubert
Carmen Fantasy by Pablo de Sarasate
Kevin Zhu, violin, Lawson Middle School; Alice Zhu, piano
~ Intermission ~
Mazurka Op. 6, No. 3 in E Major by Frederic Chopin
Nocturne Op.9, No. 1 in B flat minor by Frederic Chopin
R. J. Pearce, piano, The Branson School
Tambourin Chinois by Fritz Kreisler
Caitlin Gowdy, violin, San Domenico School; R. J. Pearce, piano
Yunnan Province Minority Folk Song
Indonesia Folk Song
Rita Hu, calabash flute (hulusi), San Domenico School
Tibetan Heart - A Song Dedicated to Tibetan Children by Tyler Leswing
Tyler Leswing, piano, The Urban School of S. F.
Jazzy Heart and Soul
Tyler Leswing, piano, The Urban School of S. F., Sophia Leswing, piano, St. Mark's School
Lento from Quartet No. 1, 2nd Movement by Stephen Spies
Caitlin Gowdy, Mae Frank, violin, San Domenico School, Stephen Speis, viola, Albany High School,
Joyce Kwon, cello, San Domenico School
Crew:
Announcement….Peggy Cui
Front Desk....Kimberly Lin, Angela Lo
Light…..Rita Hu
Ticket......Nicole Chang, Rita Chang
Stagehands....Joanna Lu, Angela Lo
Photography....Rhoda Berbey
Video......Kiyomi Ishizuka
Related photos:  http://www.childreninneedclub.com/apps/photos/album?albumid=12271840.
On August 9th, 2011, Peggy and I travelled to Lhasa, Tibet, with Matthew Geppert and Tony Wimer, two members who work at SEAPC Touching Hearts, a charity we have supported in the past. 
The day after our plane landed in Lhasa, we visited the Jokhang Temple, a large temple built in the 7th century that rests in a very busy courtyard in the middle of the city. It was a beautiful place, full of Buddhist relics and loyal pilgrims. Many of the artifacts in the temple were destroyed during the Cultural Revolution of the 1950s-1960s, but the temple itself still stands. Only one artifact still survives from the 7th century, the statue of the Future Buddha brought to Lhasa by the Chinese wife of the first Tibetan king. 
We visited two orphanages and two blind schools. The first we went to was Quzhen orphanage in Lhasa, the capital of Tibet. This orphanage has 70 children ranging from age 2 to age 20. We brought many gifts with us from the US, Beijing, and Lhasa to these children. After visiting the owners, we went into one of their classrooms and I began to perform for them. However, as I finished my last piece, one of my strings broke, and so the performance was much shorter than we had hoped for. Still, I believe the children enjoyed hearing the sound of the violin (for most of them it was their first time), and they loved the gifts that we brought them.
The next day we spent travelling in the car on a trip that was supposed to be 6 hours but ended up being around 8 or 9. We arrived in Shigatse, the second largest city in Tibet, late at night. It was raining when we drove into our hotel, and it even hailed. The streets were flooded and the sidewalks were covered in hail. The whole scene resembled the beginnings of a snow storm. That night, we visited three of the children who had been treated by SEAPC Touching Heart's program. We met a couple of sweet little girls now energetic after recovering from their life-threatening heart diseases, and one teenage girl unable to attend school in the past because of her condition, but who can now attend high school because of SEAPC's work. After a good night's rest, we travelled to a Tibetan Blind School in Shigatse, a school situated on a large and successful farm. We found ourselves in a beautiful scenery with green plants growing everywhere and young children whose lifestyles were more sustainable than anyone's that I have ever met. We ate some true organic and home-cooked vegetables there. I performed in a music room with walls, pillars, and roof painted with beautiful and intricate Tibetan patterns. The children loved the sound of the violin. Many were born blind and had never seen or heard a Western instrument. They would giggle and clap everytime I used a special technique or made a cool sound on the violin. They also performed a couple songs for us on the traditional Tibetan instrument. We then began the drive back to Lhasa, but instead of the long and windy road we took to get to Shigatse, we went by a quicker route and got back just in time for dinner. 
The next morning we visited Potala Palace, the home of the current Dalai Lama, and all other Dalai Lama's that have come before him. The palace is enormous and sits upon a hill rising out of the heart of Lhasa. In front of the palace is what looks like a small village, and in the 7th century, that small village was the city of Lhasa. After climbing hundreds of stairs, we entered the palace and visited the chambers of the current Dalai Lama, and a few of the others. We saw all of the tombs of the Dalai Lamas, all consisting of around 3,700 kilograms (8157 pounds) of gold, 200,000 pearls, and 40,000 precious gems, and they are huge! We saw many more Buddhist sculptures and relics and met many monks. That afternoon, we visited Braille Without Borders, an international program to educate blind children and adults. We went to their Lhasa campus. The man in charge is blind himself, but he is very capable and independent, and runs the school quite smoothly. The children were all happy and energetic, despite their blindness, and were captivated by the sound of the violin. One small blind girl even sang a song for us, and she was quite good.
Most often, we didn't travel to these places alone. SEAPC has an office in Lhasa and many people who run it. Peggy and I met a girl who works there named Joy. She's 19 and waiting to receive her visa to Canada because she has just been accepted into a very good university there. In Tibet, when a student is accepted into a good college, their family will through a huge party and invite all of their friends and relatives, they will eat, play, eat some more, and chat among themselves. We were invited to a party celebrating Joy and her cousin's acceptance into college (although they are going to different colleges). We made many friends while we were there and this day was perhaps one of the most fun days of the trip. We had some wonderful food, played in the river, and learned a Tibetan card game.
The next day was our last day in Tibet. Peggy left for Beijing in the morning, but Matt, Tony, and I had a later flight. We decided to spend the day by visiting another orphanage in Lhasa. This orphanage rested on a large plot of land and looked just like a traditional Tibetan building, but it looked more like it could have been a small palace. There was a large courtyard where children were playing basketball, and they had a few interesting pets. They had a Tibetan Mastiff, a huge, black dog that originates from Tibet, a goat, and a monkey. These children were wild and energetic, but sat in wonder at the sound of the violin. They were so grateful, they sang three songs for us, and spent the next hour chatting with us and showing us around their home. It was a wonderful place to be.
That afternoon, we packed up and headed off to Chengdu to visit the pandas, and then flew home the next day. I had a wonderful time in Tibet. It's a wonderful place, full of beauty, happiness, and wonder. I can't wait until I can go back.
Related photos: http://www.childreninneedclub.com/apps/photos/album?albumid=12158654.
On July 29, 2011, Children in Need received a Certificate of Appreciation from World Vision. This certificate acknowledges our recent $300 donation to the World Vision's US Disaster Relief Fund which provides essentials to families in the nation's storm-ravaged regions.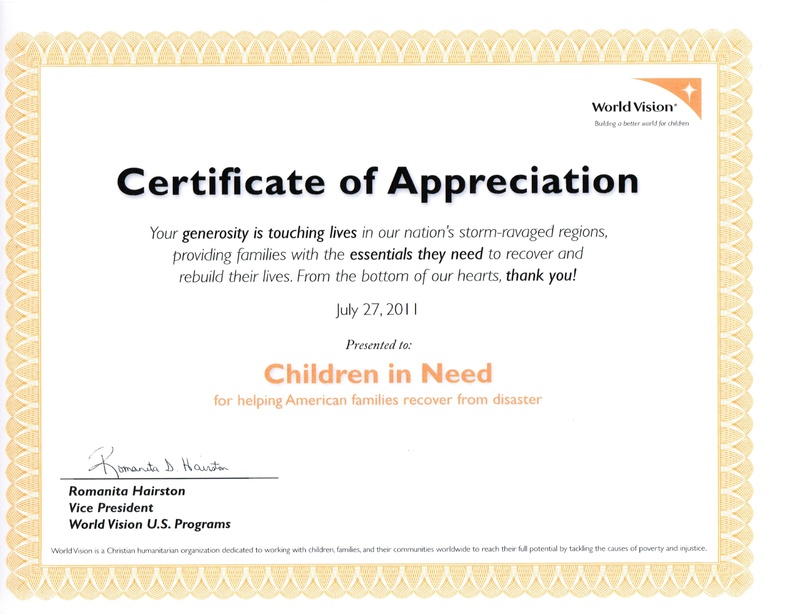 The US Senior Officer of World Vision, Jack Laverty, also sent us an email stating that a partnership has been formed between World Vision and Children in Need. This is what he wrote:
"Thank you for …… the generous gift …. collected for the relief work World Vision is providing. …… this work could not be done without partnerships like the one now formed between World Vision and Children in Need. …. As I looked through the web site, watched the videos, listened to the music and saw more details of the group I was impressed and touched…."
We are looking forward to the future cooperation with World Vision since we are sharing an important common goal that is to help needy children around the world.  Children in Need will continue to hold concerts to raise money to help underprivileged children like we have done for the World Vision.
On July 16th, 2011, four members from Children in Need, RJ, Gaby, Tyler, and Caitlin, performed at a beautiful home in the hills of San Rafael. This was a fund-raising event named Outreach to Children by the Marin Golden Gate Opera. We began by performing outdoors as guests arrived and spent time by the pool. RJ and Caitlin played many of the same pieces they performed at Smith Ranch Homes a few weeks ago. However, the program also included wonderful playing by Gaby and Tyler. Then, the guests moved inside to listen to a performance by opera singers, Olga Chernisheva, Russian soprano & Torlef Borsting, Hawaiian baritone, from the Marin Golden Gate Opera, giving us some time to rest and play chess. As dinner was served, we continued to perform and entertain. After dinner, the opera singers resumed their performances including selections from Carmen, La Boheme, Tosca, Don Giovanni and Figaro.
All the performances received an excellent response from the audience. Many guests came to thank us for our performance. It was wonderful to see all those happy faces, and to know that not only are we bringing music and happiness to our own community, we're helping to support local children. Every year, through public and private sponsorships, GGO has been able to provide tickets for in-need families and children to attend their public performances free of charge.
Related photos: http://www.childreninneedclub.com/apps/photos/album?albumid=11932965.