With the efforts of our January bakesale and other fundraising events, Children In Need Club was able to purchase two new "Lego Mindstorms EV3" sets. Before the purchase, we reviewed a lot of information and finally chose this one because of its great education potential.
The Lego website describes this saying it "Ignites student engagement and energise learning through real-life problem solving. Engage your students in Computer Science, Science, Technology, Engineering and Math. Boost learning curves and help all your students reach their curriculum targets. With LEGO® MINDSTORMS® Education EV3 hands-on, minds-on approach the only challenge you'll have is getting your students to leave the classroom!" (from education.lego.com)
These Lego sets enable us to enhance our STEM projects as well as provide opportunities for our members who are already involved in robotics to show their talent and teach children about robotics. Before we started using the Lego sets, our Media Coordinator Margaret Xu and project leader Ivy Cheng made lots of plans to integrate these into our teaching strategies. Our members also had meetings to distribute their duties and develop fun new ways to teach.
Last Friday (4/4/14), we started to use the robots and children seemed to really like it!
Volunteer reports will be posted soon. Stay tuned!
On October 23rd and 24th, we had a bake sale in San Domenico School during school hours until 3:30pm after school. 
Oct 24 is the United Nation Children's Day. In corporations with this event, we were selling bookmarks that were made by Sun Village kids in Beijing. Sun Village is a place for children whose parents are in jail. With the use of Chinese paper-cutting techniques, each of these bookmarks portrays an article of the United Nations Convention on the Rights of the Child. Teachers liked the bookmarks especially and we got a lot of support from them. 
All the things we sold:
Smoothie $1 
Brownie -- $1 for small; $2 for big
cookie- $1
pocky - $1.5 
Jelly -- 2 for $1
Soda $1.5 
Chips $1
Bookmarks $2
Fiona made the smoothie for us. Smoothis is good to sell not only because it's healthy also because we can lower down the cost by making food by ourselves rather than buying processed goods. Brownie was also made by a group of members who donated their time to help. We also got special help from Mr. Sloan to make big brownie for us since his brownie is well known in school and taste really good. During the bake sale, we also accepted IOU (I owe U) from high schoolers so that people who forgot to bring their money could still buy our stuffs. And we actually traced all the money back during the next week. We sold things after school to the middle schoolers and primary schoolers and earned some little donations from their parents and teachers too.
We also sent out an email blast through Laura to the whole school containing a pdf introducing out club, what we do and everything we sell.

Other than that, we had a special lottery box. It's a box full of slips of paper inside. Each paper had a price and every paper had a price. Price was like... a jelly...a brownie... a soda...There were 2 ways to get a free chance to draw:
1. Spend $5 on other things– a free chance oto draw 2. Every 10th person who reply the email sent by laura gets a free chance
There were 20 people in total who replied the email and we chose the 1st, 2nd, 3rd, 10th, and 20th to give them a free chance to draw. We believed that people who got the free chance would bring their friends to the bake sale and also helped us promote the bake sale. And for those people who already spent $3 or $4, a free chance to draw would encourage them to spend over $5. In this way, we increased the profit. 
Our schedule of people watching over the bake sale:
Thursday
1st period: Cherry, Linda Li
break: Cherry, Linda Li, Candy Tang
2nd period: Candy Tang
lunch: Jacqueline, Angelina, Linda
3rd period: Ada afterschool: Jacqueline
Friday:
1st period: Linda Bu, Vicky, Mia, Dorothy, Deborah, Fiona
Break: Linda Bu, Vicky, Mia, Dorothy, Cherry
2nd period: Cherry, Nicole Wu
break: Cherry, Nicole Wu, Jacqueline, Luming, Angelina
3rd period: Jacqueline, Luming, Angelina
lunch: Jacqueline, Angelina
4th period: Nicole Wu, Danelia
afterschool: Candy Tang, Jacqueline, Mia 
Here we would like to thank all the people who helped out during the bake sale! This successful bake sake includes everybody's effort! 
In conclusion, the bake sale was very successful We earned $346 in totoal during these two days. Some of them were donated to the African boy. We also made a flyer about the bake sale with a lot of club members' signiture, we will mail this flyer to the African boy to show him our care. The other half we are planning to donate the money to SEAPC. Because there are a lot floods in Cambodia right now. Through SEAPC, they will give the money to the orphanages in Cambodia to help those Cambodian kids affected by floods now. 
Related photos: http://www.childreninneedclub.com/apps/photos/album?albumid=15191277
Our club is selling these beautiful cards designed by Fiona Wang for $2 each with envelope. Please support Fiona Wang's cause for an orphanage in Nepal and other charitable causes.
You can contact us at [email protected]. Thank you.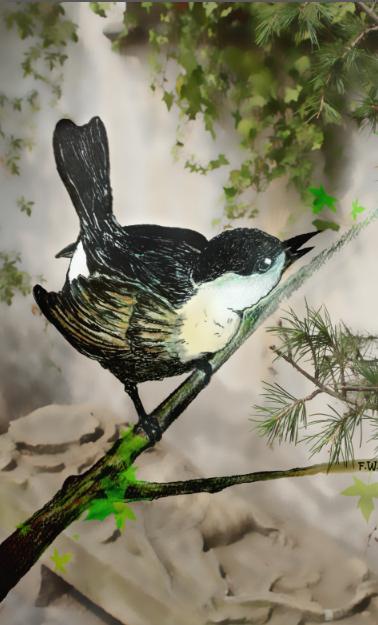 Please support our cause:
Our Northern CA Head, Kuni Migimatsu, has been making these heart-shaped pins since he was 6 years old. He covers a cardboard base with mostly Japanese papers, and puts on beads or gold leaf for a little touch. His pins were sold out at art shows in Sausalito each time.
If you are interested in Kuni's pins, please contact us at [email protected]. Thank you!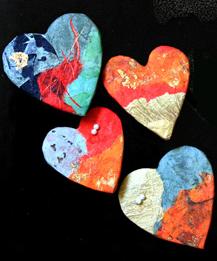 On 06/16/13', Kuni Migimatsu and Alex Berbey held a bake sale while Cherry Yuan played live music at Montecito Plaza in San Rafael. The food was all hand-made including inari sushi, muffins, strawberries with chocolate, red velvet cup cakes and brownies. It was Father's Day so the traffic was light. It took a while for the bake sale to take off especially after the table was moved to the front of a coffee shop. People could not believe these were hand-made food. They also enjoyed Cherry's violin playing. After 2 hours, most the food was gone.
Money raised from the bake sale would help buying a set of drums for a newly established orphanage, New Homes for Orphans in Cambodia while money raised from the street busking by Cherry would be part of donation to Eagles' Wings Orphanage. It was a fun day to be out on the street telling people about our mission and sharing our good music and food with strangers.
More photos: http://www.childreninneedclub.com/apps/photos/album?albumid=14976938
On March 14 and 15, 2013, we had a bake sale in San Domenico High School. The aim of this bake sale was to raise money to support the sponsorship fee of the African boy in Niger and an impoverished school in Nepal. The original one day bake sale prolonged into two days as we still have snacks left from the first day.
During the bake sale, we sold different kinds of Asian style snacks as well as brownies, apple juice, fresh made smoothies and lollipops. Here we would like to thank for the support from the high school faculty and high school and middle school students. We successfully raised $160.45 from the two days. We have decided to give $50 from this bake sale to the African boy and the rest will go to Asna Orpnanage in Nepal.
We are having another performance at the end of March and continue to raise money for the African boy.
Related photos: http://www.childreninneedclub.com/apps/photos/album?albumid=14608465
After devastating earthquakes and tsunami, radioactive materials spewed into the air from Japan's earthquake-crippled nuclear plant that may contaminate food and water resources. Children and unborn babies are most at risk of possibly developing cancer.
Appassionato Music Group had a bake sale at San Domenico on March 24, 2011. The money we raised will be donated to Save the Children which is a "leading independent organization creating lasting change in the lives of children in need in the United States and around the world" to help the children in Japan (Save the Children).
We sold brownies, popcorns, apple cider, cupcakes, homemade cookies, and milk chocolate easter eggs. Homemade cookies and chocolate eggs are two most popular items.
The bake sale turned out really successful; we raised $225.
We are having a benifit concert for Japan at 7:00 pm on Sunday, April 24 at Hall of the Arts in San Domenico.
Related photos: http://www.childreninneedclub.com/apps/photos/album?albumid=11265348.
On Thursday, October 14, 2010 Appassionato Music Group had a bake sale at San Domenico High School. Our goal was to promote the United Nation Convention on the Rights of the Child. The money we raised was to be donated to Sun Village Beijing.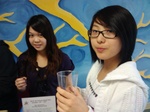 During this bake sale, we sold Chinese paper-cut bookmarks that were made by the Sun Village children. On each bookmark, there was one UN Convention article. We also sold some udon, hello pandas, Yan-yan, apple cider, popcorn, halloween cookies, and jelly. Our most popular items were udon and popcorn. In the end of the day, we raised a total of $159.00. We are planning to have a popcorn sale soon.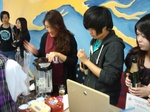 Related photos: http://www.childreninneedclub.com/apps/photos/album?albumid=10171060.
On October 3, 2010, members of the Appassionato Music Group, including Peggy Cui, Kimberly Lin, Angela Lo, Joanna Lu, Allie Simpson, Hanna Kim, and myself, Caitlin Gowdy, went to the Mission San Rafael Arcangel in San Rafael to promote United Nations' Convention on the Rights of the Child. At the event, we sold bookmarks made by the children at Sun Village Beijing. Each bookmark portrays an article of the Convention with Chinese paper cut picture. We also had a small chamber music performance.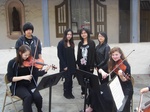 We spent two and a half hours at the Mission, playing music and selling bookmarks between masses. The music and bookmarks were well received. People enjoyed the music with lots of clapping and showed their support to the noble cause by purchasing the bookmarks. This was a successful fundraising event. Thanks to everyone for helping us to make this event a success!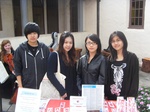 Related photos: http://www.childreninneedclub.com/apps/photos/album?albumid=10090248.
Today, May 12, 2010, we had a food sale. The money we raised will be donated to the SEAPC Touching Hearts charity. This month, they are sending a team of US doctors to treat around 130 children who need heart operations. Since Tibet is located in such a high altitude, heart problems are common among the local people. Being lack of resources and money, many patients need financial support for their operations.
We sold chicken chow mein, Italian soda, root beer, lemon soda, jellies, Yan-Yan, Hello Panda, M&M's, chocolate cupcakes, popsicles, nuts, and cream puffs. Chicken chow mein and Yan-Yan are the two most popular food items. In the end of the sale, we raised over $250.
We are also having a clothes drive for Sun Village, an orphanage in China, from now to the end of the semester. Peggy and Caitlin are going to bring donated clothes to the orphanage this summer.
Related photos: http://www.childreninneedclub.com/apps/photos/album?albumid=9009530.